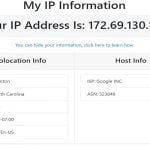 What Is My IP BEST
By https://whatismyip.best
No Rating Available.
What Is My IP BEST
What Is My IP BEST Mode Free Download
Take back control over your privacy, know what they know about your using WhatIsMyIP.BEST
A very simple tool allows you to check your IP at any time, using WhatIsMyIP.best service.
Simply by clicking on the small icon on the top right corner, will pop up a small window with your IP address.
a very useful tool if you use VPN, just to make sure your ip is masked, also by clicking more info you can get more information about your IP for example what country, city and even what ISP, be aware that every website knows this information about you, its very important to know what they know.
| | |
| --- | --- |
| Package Name: | gkdkmkhpgobacjhfakgljpcgaiimlknk |
| Version: | 1.0 |
| File size: | 23.2KiB |