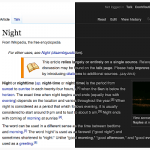 Dark Theme for Chrome
By Karry Blair
No Rating Available.
Downlaod Dark Theme for Chrome for google chrome
Dark Theme for Chrome Mode Free Download
Dark theme for chrome mode all websites in Chrome browser with opportunity to exclude any domain or create custom theme
Apply all websites in browser into dark theme and exclude any domain from black theme for better experience. It's possible to create your own custom theme with any color you like. Social networks, mainstream sites and all other New Tabs will be all together covered into black colors. No more needs to open settings one by one for different websites – just one app brings black theme across the whole net.
Option page is now available! Useful features:
– Optionally add domains that you don't want to apply into black theme
– Create your own custom theme! Save it, rename and apply at any time
| | |
| --- | --- |
| Package Name: | boickdfaikbcijelmcjhlonpchfnabmb |
| Version: | 3.3.5 |
| File size: | 623KiB |