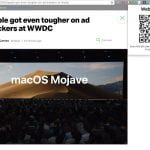 Web-M-QR
By Shreyans Gandhi
No Rating Available.
Web-M-QR
Web-M-QR Mode Free Download
Scan the QR code from a desktop browser to open the current URL on any hand-held device like mobiles, tablets, iPad, etc.
This chrome extension adds a button to your browser which will show a QR code for the current tab when clicked. Scan the
QR code and open the page on your mobiles, tablets or any other hand-held device that can scan a QR Code.
A lot of times you are reading something on your desktop and wish to continue on your mobile phone. But do you find the URL too long to be typed? Why not such scan a QR code and continue reading on the move!
This app does not collect any browsing activity or any other private information. No need to login. Just install and start using.
| | |
| --- | --- |
| Package Name: | lnalmfejfpclfilcohkkbfmaifijipcf |
| Version: | 1.0 |
| File size: | 46.33KiB |