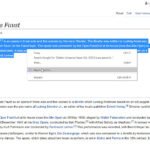 voix for google chrome
By voix.us
No Rating Available.
voix
voix for google chrome Mode Free Download
voix – text to speech
FREE! Simple, fast, high-quality text to speech reader which can read large amounts of text at once.
# How to use voix
– Select desired text on any web page.
– Click the voix icon in your browser toolbar
or
Right click on selection and choose "Read selection"
# How to change voice and language
– Right click on voix icon in your browser toolbar
– Select "Options"
# How to install additional voices and languages
New voices, languages and dialects can be downloaded *for free* for your operating system from for example Microsoft and Apple. Once installed correctly, voix will auto-detect them.
for Windows 10: got to Settings > Time & Language > Language
for macOS: go to System Preferences > Accessibility > Speech > System voice > Customize…
| | |
| --- | --- |
| Package Name: | bacijljjhpcmfgghmepoogbejkinkggg |
| Version: | 1.0.0 |
| File size: | 22.93KiB |