Voicepods – Realistic Text to Speech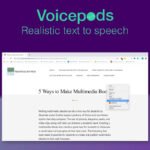 Voicepods – Realistic Text to Speech
By Voicepods
No Rating Available.
Voicepods - Realistic Text to Speech
Voicepods – Realistic Text to Speech Mode Free Download
Bring words to realistic AI generated voice – Convert any written text on the web into speech.
Voicepods enables you to listen to any text on any website with realistic AI generated Voices.
Easily convert selected text or the entire page with one click and listen through the Chrome extension. It automatically syncs with your Voicepods account so that you can listen anywhere you go!
Choose from over 24 voices in 10 languages including Dutch, French, German, Italian, Korean, Japanese, Turkish, Spanish (Latin American and European), Hindi (Written as English, or Hindi).
– Listen to selected text in over 10 languages
– Voicepods automagically extracts out the relevant parts in web pages so that the audio only contains the content of the website and not extras like navigation
– Syncs with Voicepods so that you can listen anywhere you log in
– Control the pace of the audio playback to your liking
| | |
| --- | --- |
| Package Name: | fihebcnndekipadhomlgaiajoipkophe |
| Version: | 0.1.0 |
| File size: | 1.66MiB |