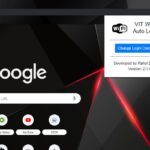 VIT WiFi Auto Login
By Rahul Davamani
No Rating Available.
VIT WiFi Auto Login
VIT WiFi Auto Login Mode Free Download
Automatically login to VIT WiFi
This is a Chrome Extension used to automate your login process to connect your VIT 2.4G/5G.
Provide Your Login Credentials and Connect to VIT WiFi like an ordirnary WiFi.
Your Passwords are Stored on Your Browser. It is not sent or stored on any external storage.
Support and Share it to others.
Designed and Developed by Rahul Davamani.
Versions:
* 1.0.0
– Test Version
– 15/10/2019
* 1.1.0
– Developed Version
– 15/10/2019
* 1.2.0
– Added Logo, Icons and Tiles
– Simplified the Name of the Extension and other Patch Works
– 16/10/2019
* 1.2.1
– Cleaned Up the Code
– 17/10/2019
* 1.3.0
– Added Notification
– 19/10/2019
* 1.3.1
– Minified the Code with Gulp.js
– 20/10/2019
| | |
| --- | --- |
| Package Name: | opplgfmlhieaibnddnjciilcadohjopd |
| Version: | 1.3.1 |
| File size: | 136KiB |