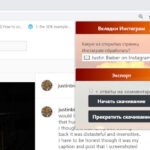 View & Load
By randomnumber.pro
No Rating Available.
View & Load
View & Load Mode Free Download
This extension helps to analyze Instagram™ comments under the posts with small amounts of comments (less than 1000).
This is a very simple app to download comments in form of CSV files. To use this extension just open the desired post in Instagram, choose whether you want to download Replies to comments as well and click "Extract Comments". After a while a CSV file with user names and their comments is ready.
The performance of this app strongly depends on your connection speed and the amount of comments. It is not recommended to use this extension for posts with more than 1000 comments.
Similar functionality for follower search is in development.
| | |
| --- | --- |
| Package Name: | jpleemlekdbjoijcklijaoaifonihkje |
| Version: | 0.0.1.1 |
| File size: | 171KiB |