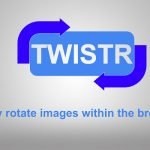 Twistr
By sasienidevelopment
No Rating Available.
Twistr
Twistr Mode Free Download
Twistr is a chrome extension that lets you easily rotate images within web pages. It can be used for regular images and those with connected links, and it is particularly useful on platforms like social media and messaging services where you often see pictures taken the wrong way round. All you need to do is right click on the image, go to the "Twistr" section, and choose to either rotate clockwise or counterclockwise.
Twistr also gives you the option to open the image in a new tab, this allows you to see the image largely and clearly, and is especially helpful in the fraction cases where some parts of the rotated image are cut off by the rest of the page.
To return the images to their original state, you can either right click on the images and turn them back, or simply reload the page to put everything back to normal.
If you ever forget how to use Twistr, you can click on the Twistr icon (Blue with a white letter "T") in the top right corner of your browser and go to the help page.
Twistr is very non-intrusive, taking up an extremely small amount of storage and using minimal processing power and close to none while running in the background. You should not even notice Twistr's precence except for when you need it. Twistr will even work when it's icon is unpinned.
(You will probably need to reload any tabs open before you installed Twistr to use it on those tabs.)
I hope you find Twistr useful and please feel free to contact me if you have any issues or suggestions.
| | |
| --- | --- |
| Package Name: | gfflmokgjinhlhnehfjfghdjfmlgjdmg |
| Version: | 1.0.0 |
| File size: | 46.24KiB |