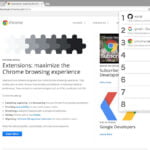 tttab for google chrome
By https://blog.wataridori.co.jp
No Rating Available.
tttab
tttab for google chrome Mode Free Download
Remember And Restore Your Favorite WebPage.
tttab provide shortcut keys to remember website you are reading and enable to reopen saved website URL on a new tab.
tttab also provide easy way to confirm which website you saved.
'tttr' + number: remember current URL.
'ttt' + number: reopen saved URL on a new tab.
'tttt': open current url in a new tab (not save) for background.
'ttte': expand all tabs which you saved.
'ctrl' + 'shift' + t: display saved URL list.
In this list.
– Press some number to open url on new tab if saved.
– Press some number to save url in the list.
| | |
| --- | --- |
| Package Name: | mgbopccjomkajbkkjbccmpcflgcefjhn |
| Version: | 3.0 |
| File size: | 35.93KiB |