Toucan for google extension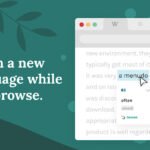 Toucan for google extension
By jointoucan.com
No Rating Available.
Toucan
Toucan for google extension Mode Free Download
Learn a new language just by browsing the internet.
Toucan will teach you Spanish, German, Italian, Portuguese and French without ever opening a textbook.
Install in seconds
➤ It only takes two clicks to get started
Browse the internet
➤ We'll translate key words and phrases to build your knowledge
Learn at your own pace
➤ As you get comfortable with a language, we'll introduce new aspects for you to learn as you become more fluent each day.
Practice what you've learned
➤ Play minigames to test you on your new vocabulary and take your skills to the next level
Help us keep Toucan working on all your favorite sites by emailing us at info@jointoucan.com if you run into any trouble.
| | |
| --- | --- |
| Package Name: | lokjgaehpcnlmkebpmjiofccpklbmoci |
| Version: | 1.6.3 |
| File size: | 9.28MiB |