Toktogi: A Korean-English Popup Dictionary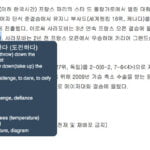 Toktogi: A Korean-English Popup Dictionary
By toktogi.com
No Rating Available.
Toktogi: A Korean-English Popup Dictionary
Toktogi: A Korean-English Popup Dictionary Mode Free Download
Popup Korean-English dictionary that shows you the definitions of Korean words when you hover the mouse next to them
Toktogi is a popup Korean-English dictionary. Once installed and turned on, simply hover the mouse in front of a Korean word on a page and a box will pop up with the definition in English. This is great for people reading Korean web pages who don't want to have to copy and paste words into a search engine or dictionary to get the definition.
Toktogi uses a dictionary created from the 'kengdic' project, which you can find here: https://github.com/garfieldnate/kengdic
Toktogi is inspired by the Japanese language learning extensions Rikaichan and Rikaikun.
Twitter: https://twitter.com/toktogiapp
Email: toktogiapp@gmail.com
Website: http://www.toktogi.com
| | |
| --- | --- |
| Package Name: | domfinmkohodhgghgedfdcmonefafolm |
| Version: | 0.6.6 |
| File size: | 2.75MiB |