THelper for chrome extension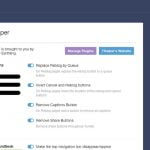 THelper for chrome extension
By www.thelper.co
No Rating Available.
THelper for chrome extension
THelper for chrome extension Mode Free Download
This extension changes/adds to the default behaviors of Tumblr.com
THelper is an extension to aid with your daily Tumblr blogging.
Features for users so far:
– Change Tumblr without changing its integrity! It will still look like Tumblr!
– Awesome settings and plugins page
Plugin features:
– Tag your posts using tag groups
– Decrease RAM usage from Tumblr
– Blacklist posts, and the ability to completely hide them
– Whitelist posts, adds a golden glow to the post
– Change some buttons on Tumblr, remove share buttons.
– Hide and show the top bar depending on the way you scroll.
– A bunch of other features!
Features for 'developers':
– Easy going framework to manipulate Tumblr.
– Plugin creation, and saving.
– An events API.
– Every plugin brings their own tweaks to Tumblr!
*Note: This extension is in development, all plugins are experimental. THelper's performance not monitored, but no impact has been noticed.*
**In the picture on the left, you can see the settings page, which uses the Tumblr settings 'feel' as well as the link to add or remove the plugins from THelper**
Github: https://github.com/Zacky1/THelper
Website: http://thelper.co
| | |
| --- | --- |
| Package Name: | khiekglhpdlcinaikkhjhogdfcciolch |
| Version: | 1.1.2.1 |
| File size: | 31.88KiB |