The 1 Adblocker for google chrome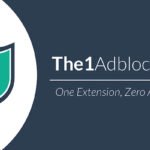 The 1 Adblocker for google chrome
By https://the1adblocker.com
No Rating Available.
The 1 Adblocker
The 1 Adblocker for google chrome Mode Free Download
The latest adblock with the best features from the most popular adblocks. Easy on CPU and memory.
/// THE 1 ADBLOCKER – ONE SOLUTION TO GET RID OF ALL ADS ///
One solution – perfect results
The 1 Adblocker you will ever need. Get rid of annoying advertisment and popups with the most comfortable adblocking solution on the web.
The 1 adblocker has the most effective technology for Google Chrome for the best performance in the browse and zero ads.
– Easy to use
– Saves CPU and memory
– contains the latest Adblocking technology and up2date ad lists
– you can kill elements with 1 click
– customize your settings for your best browsing experience
—
This service is free. Please support us by rating with 5 stars and leaving a positive review – If you like this service, consider to share the 1 adblocker with your friends on Facebook, twitter or G+.
| | |
| --- | --- |
| Package Name: | pkocadmokmpjeeaimigjpmfpdaighkga |
| Version: | 1.5 |
| File size: | The 1 Adblocker |