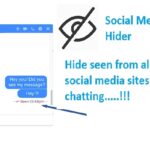 Social Media Seen Hider
By ggill66556
No Rating Available.
Social Media Seen Hider
Social Media Seen Hider Mode Free Download
Hide messages seen from all main social media sites while chatting.
Social Media Seen Hider main feature is to hide seen on social media sites like fb, twitter, insta when you are chatting with someone.
It helps you to add extra layer of privacy when your messaging someone.
How it Works.
When someone send you message, and you read it. Then our extension will show that you didn't read the message by hiding the seen. But you will still able to see if the other person saw your message or not. It will only hide seen feature from their side.
There are also extra features like fetching user id from user's account using their browser cookies.
Update: Fixed some bugs.
| | |
| --- | --- |
| Package Name: | dopccgfmbbcpilgipdofldofiiddljij |
| Version: | 0.2 Beta |
| File size: | 28.43KiB |