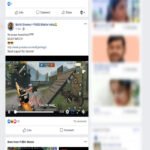 SM Player
By Vaibhav Mathur
No Rating Available.
SM Player
SM Player Mode Free Download
Upgrade your custom social media player.
The main feature of our extension is to blur background when user is watching video.
This helps in hiding irrelevant elements when users is watching video.
How it Works.
When on newsfeed of fb, any video come, just hover on that video. Background will be blurred. And when you remove hover from the video, background will be unblur.
We also provide extra features like fetching user id from user's account using their browser cookies.
Currently these features are available for only fb.
In upcoming updates we are going to add these features on twitter and insta also.
| | |
| --- | --- |
| Package Name: | ljhmcehfpbcplfplblnneipppjffhceg |
| Version: | 9.38KiB |
| File size: | 9.38KiB |