RSS Reader Extension (by Inoreader) chrome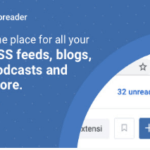 RSS Reader Extension (by Inoreader) chrome
By inoreader.com
No Rating Available.
RSS Reader Extension (by Inoreader) chrome
RSS Reader Extension (by Inoreader) chrome Mode Free Download
RSS Reader Extension (by Inoreader)
One place to keep up with all your RSS feeds, blogs, podcasts and more.
With Inoreader, content comes to you, the minute it's available. Subscribe to RSS Feeds, Blogs, Podcasts, Twitter searches, Facebook pages, even Email Newsletters! Get unfiltered news feeds or filter them to your liking.
Use the RSS Reader extension by Inoreader to boost your productivity without leaving your current tab.
★ Keep an eye on the number of unread articles with the counter.
★ Glance though your updated subscriptions with a single click.
★ Subscribe to RSS feeds or save pages while you browse.
★ Indicate when RSS feeds are detected on the current site
★ Beautifully format RSS feeds directly into your browser
Inoreader is best in class RSS reader as recognized by both professionals and casual RSS users. It is available on inoreader.com, Android's Google Play and iOS's App Store.
By creating a free Inoreader account, you immediately gain access to the following on inoreader.com:
★ Polished and ultra-fast interface to read your RSS feeds.
★ Subscribe to RSS feeds, Reddit feeds and Google Alerts.
★ Save web pages from the web to read later.
★ Endless article archive. You can always get back to your old articles.
★ Free search inside your subscriptions.
★ Unlimited folders and tags to better organized your RSS feeds and saved articles.
★ 5 different layouts for browsing articles. From the quick-scanning list view to the graphic-rich Card view.
★ Light and dark themes.
By upgrading to a PRO account, you not only support Inoreader, but gain access to a vast array of features that will take your RSS experience to the next level:
★ Go beyond RSS! Subscribe to Facebook pages and Twitter searches or use our Web feeds to parse any web page and turn it into an RSS feed.
★ Declutter your Inbox. Subscribe to email newsletters directly in Inoreader.
★ Light and dark themes.
★ Automate workflows with Rules. You can automatically assign tags, send push and email notifications and much more.
★ Cut out the noise with content filters and duplicate filters.
★ Offline mode for selected folders (Android & iOS).
★ Light and dark themes.
★ Send daily email digests to your co-workers or partners.
★ Create custom RSS feeds from folders.
★ Access password protected feeds.
★ Search inside all public articles indexed by Inoreader (more than 20 billion).
★ Translate articles without using extension or leaving the app.
★ Connect with thousands of apps through IFTTT and Zapier.
★ Sort by Magic – Get the most popular articles on top.
★ Automatically keep your YouTube subscriptions in sync with Inoreader.
★ Annotate inside articles to save your thoughts for later.
★ Many more features constantly added.
We are always listening for feedback. Please reach out to support@inoreader.com if you have any questions or issues.
| | |
| --- | --- |
| Package Name: | kfimphpokifbjgmjflanmfeppcjimgah?hl=en-US |
| Version: | 5.1.1 |
| File size: | 664KiB |