ReadMate: Accessibility & Dyslexia Software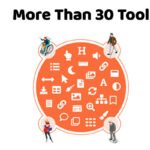 ReadMate: Accessibility & Dyslexia Software
By https://hikeorders.com
No Rating Available.
ReadMate: Accessibility & Dyslexia Software
ReadMate: Accessibility & Dyslexia Software Mode Free Download
Read,understand and navigate the content of the website easily
⚡ About
Read Mate is a browser extension that helps you to customize the website to your needs. It is a simple , yet powerful browser plugin. It takes navigation and your reading experience of the website to next level. It has wide array of features that simplify your day to day activity on the web.
⚡ Features
✔️ Easy web page navigation using page content filter options
✔️ Adjust letter and word spacing
✔️ Adjust font size and line height
✔️ Apply open dyslexia and 5 plus different fonts to any web page
✔️ Use cognitive load to better your reading experience
✔️ Dictionary and vocabulary helper
✔️ Highlight heading and links
✔️ Improve the keyboard focus on the web page
✔️ Screen ruler and screen mask to increase reading focus
✔️ Page zoom and text magnifier for better readability
✔️ Big black and white cursor options
✔️ Gray scale and invert color of any web page
✔️ Color overlay for scotopic sensitivity syndrome user
✔️ Change background and foreground color of the web page
✔️ Better image caption display
✔️ Hide images and Gifs to improve reading focus.
✔️ Volume booster for audio and videos on the web page
⚡ Other Features
✔ Personalize the color of the toolbar
✔ Change the location of the trigger ( toolbar open button)
✔ Intelligent and user friendly toolbar design
✔ Google translate to over 100 languages
✔ Quick and quality support
⚡ Pricing
☀ Free Plan with limited options
☀ Monthly Plan – $4.0 / month
☀ Half Yearly Plan – $3.5 / month
☀ Yearly Plan – $2.5 / month
? All plans have 3 days free trial
⚡ Important
☀ The plugin will not work in tabs that were open prior to installation. After installing this extension, either reload your open tabs or restart Chrome.
☀ Note that all extensions are disabled on Chrome Web Store pages (including this one). Do not test the extension on this page; it will not work!
☀ If the extension is not working for you, please make sure it's up to date. Visit chrome://extensions/, click the "Update extensions now" button, then restart Chrome.
⚡ Support
Help us keep Read Mate working on all your favorite sites. If you have any trouble get in touch with us
Email: readmate@hikeorders.com
Support Center: https://support.hikeorders.com/read-mate-support-home/
Click here How to install Google Chrome extensions manually
You can download all premium theme and plugin Visit the website https://filetheme.com
| | |
| --- | --- |
| Package Name: | ddhcogollcakgialjaegcmgjjpfnafaf?hl=en |
| Version: | 1.8 |
| File size: | 1.48MiB |