QURL – QuezX URL Shortener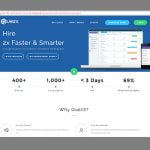 QURL – QuezX URL Shortener
By Quetzal Online Private Limited
No Rating Available.
QURL - QuezX URL Shortener
QURL – QuezX URL Shortener Mode Free Download
URL Shortener to improve productivity while copy pasting URLs
This extension shortens a long URL from the Chrome Web Browser and copies to your clipboard.
All you need to do is:
– Open the web-page you want to shorten
– Click on the extension icon
– Paste the URL wherever you want
Bingo! That's it. You are good to go.
| | |
| --- | --- |
| Package Name: | gkimplinopengeadgkikapoigepjggik |
| Version: | 0.6 |
| File size: | 173KiB |