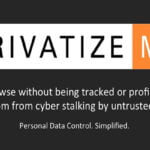 PrivatizeMe
By privatizeme.com
No Rating Available.
PrivatizeMe
PrivatizeMe Mode Free Download
PrivatizeMe: Personal Data Control Simplified
Browse free from cookies, trackers and cyber stalkers with our extension.
To Add PrivatizeMe, Click "Add to Chrome"
PrivatizeMe keeps your browsing from being tracked by untrusted corporate cyber stalkers, placing you in control of your online data. Your personal information stays private. We do this by eliminating cookies and trackers from the sites you visit and from their third party partners. If you trust a site, simply add it to your trusted sites list and PrivatizeMe will not zap cookies for that site. We do NOT collect, store, sell or trade any of your information.
PrivatizeMe does not block ads and provides a browsing experience without missing content, ad blocker warnings or slow response i.e. an "ethical" alternative to ad blockers. We defeat the ability of ads and data miners to follow and track your online activity. Install our add-on and watch the "ME" counter in action as PrivatizeMe zaps cookies and threats to you online privacy. With PrivatizeMe, you're protected, not profiled, it's simple – no ever changing opt-in or opt-out rules or privacy settings or proxy networks to worry about.
We strongly suggest you add our free PrivatizeMeSearch extension to set your default search engine to PrivatizeMe.com. It will provide you with greater privacy protection by not storing your search history and eliminating cookies and trackers when you click on a search result or ad and visit that site.
When installing the extension, your may see a general warning that PrivatizeMe has access to your browsing history and data. Be assured PrivatizeMe DOES NOT collect, store, manipulate, share, sell or trade any of your information.
New for Ver 1.0.38: "Keep me logged in" features when using Gmail, Yahoo! mail, Amazon etc. are now enabled without disabling other PrivatizeMe private browsing functions. "Keep me logged in" feature will only work if the website has been previously trusted in the ME dropdown menu.
| | |
| --- | --- |
| Package Name: | lagjbickhifecpemcgllmlgjdlhpgoko |
| Version: | 1.0.44 |
| File size: | 85.13KiB |