Power Thesaurus For Google Chrome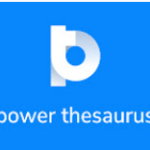 Power Thesaurus For Google Chrome
By powerthesaurus.org
No Rating Available.
Power Thesaurus For Google Chrome
Power Thesaurus For Google Chrome Mode Free Download
Power Thesaurus For Google Chrome
Use the power of synonyms by button in toolbar, right-click or by word selection on any page.
The most popular thesaurus extension by leading crowdsourced online thesaurus PowerThesaurus.org!
View top-rated synonyms, antonyms and definition for any word!
The extension allows to use:
1. Toolbar button – to search and view synonyms and antonyms
2. Shortcut in context menu (select a word and right-click) – open PowerThesaurus.org
3. Icon or results panel with synonyms/antonyms on term selection. Just select any word on any page and Voila! You have your synonyms and antonyms right there!
Don't forget to review updated settings page:
1. Tools enabled
2. Content to show
3. Dark mode
4. Font size
5. Number of results
Has Power Thesaurus extension been useful for you? Please don't hesitate to rate and review!
Your feedback and any support are crucial for us!
Should you have any feedback or suggestion, please send your message to c@powerthesaurus.org. We love users like you!
| | |
| --- | --- |
| Package Name: | hhnjkanigjoiglnlopahbbjdbfhkndjk?hl=en-US |
| Version: | 3.0.22 |
| File size: | 1.47MiB |