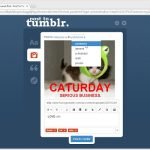 Post To Tumblr
By markd.co
No Rating Available.
Downlaod Post To Tumblr for google chrome
Post To Tumblr Mode Free Download
Post To Tumblr
Enables right-click posting of content to Tumblr
PLEASE LEAVE A REVIEW IF YOU LIKE THIS APP 🙂
How to USED post To Tumblr
Post To Tumblr is an extension that adds simple right-click-post functionality to Chrome.
You can right click on any image, page, link or video to quickly upload to Tumblr. You can even drag images into chrome and upload them directly!
(also check out https://markd.co/ – save and organize social profiles with one click!)
Thanks everyone for your support and suggestions. If you would like to keep up to date with updates or suggest new features to me, send me a message on Twitter: @mikeysee or subscribe to my blog: http://www.mikecann.co.uk
If you really like the extension and want to help me out and speed up its development you can donate. There is a button in the options page to do this, cheers!
Note: You can optionally donate or display ads for extra features!
—- Version History —–
– v6.67 – 16/04/20
+ Fixed Clipboard permission not working
– v6.62 – 10/09/19
+ Adding Sentry to help with error tracking
– v6.61 – 18/08/19
+ Hopefully preventing the error popping up when opening chrome
– v6.60 – 25/07/19
+ Very long posts on the format-post page are now able to be scrolled properly rather than going off the screen. (thanks to will hogg for this bug report).
– v6.59 – 11/08/18
+ Context menu items can now have "hotkeys" assigned to them:
+ This feature is a little experimental so if you find that it doesnt work as expected please do send me an error report or email and ill look into it. Massive thanks to Peter and Patrick for the suggestion!
– v6.58 – 05/08/18
+ Added an option to completely delete your PTT account and remove all your data.
– v6.57 – 07/21/18
+ No longer auto-popups the login screen if you arent logged in when the extension starts (it was annoying, thanks Elsa for the suggestion)
– v6.56 – 27/05/18
+ Fixed an edge-case that was causing imgur videos to post the wrong video.
– v6.55 – 14/05/18
+ You can now post videos from Imgur! Just right click on the video and post. This was achieved by handling Imgur as a special case. If you would like PTT to handle another site as a special case then just send me a suggestion and ill be glad to look into it for you!
– v6.54 – 20/12/17
+ You can now post webp images to Tumblr!
+ You can now post from the "viewsource:" pages in chrome (thanks to Scott for the suggestion!)
+ Made the suggestion text area larger
– v6.53 – 18/12/17
+ Added a button to the General options tab to explain how to enable local-file posting to Tumblr!
– v6.52 – 13/11/17
+ Increased the width and height of the default size for the raw text area captions.
+ Made the tags area on the one-click options larger and resizeable by default.
+ Added an option to the WYSIWYG toolbar to embed images (thanks Alfred).
– v6.51 – 10/11/17
+ Added an option that replaces the new WYSIWYG Text Areas with raw Text Areas for those that need absolute control of their captions. Thanks to everyone who reported this.
– v6.50 – 10/11/17
+ Fixed an issue where the text area want correctly updating when multiple text areas were on the screen (thanks to adena for that one)
– v6.49 – 09/11/17
+ Fixed an issue where you could not paste complex HTML into the new text area. (thanks to all that reported that one)
– v6.48 – 08/11/17
+ Changed the text area library I was using as it was causing issues. Now using a much better one that even supports emojis ???
+ As a result of the above, quote posts now work again (thanks to Robin for that)
+ Tags are back again in the format post page, thanks to everyone that reported that issue
– v6.47 – 26/10/17
+ PTT codebase had a bit of an upgrade, making way for some more changes coming soon.
+ Using a new date-time picker for scheduled posts, the other one was depricated.
– v6.46 – 14/07/17
+ Now correctly handle the "Session token is expired." error, sorry about that.
– v6.45 – 16/06/17
+ Added a dialog for the PTT / Above Under Competition
+ I now correctly catch if you have deleted a blog but the one-click menus still point there. I also offer a way to fix those menus. Big thanks to GoogleySmooth for the very detailed bug report 🙂
– v6.44 – 14/05/17
+ Investigated an fixed an issue where a post could be sent multiple times. Thanks to all who reported this one!
+ It is now possible to post videos from Instagram, yey! Thanks to Shoes Love for the suggestion on that one!
– v6.43 – 11/05/17
+ Added a new chars remaining count when posting to twitter. Note this may not be exact as I cant tell exactly how long the tweet that Tumblr generates will be. Big thanks to Anand for this suggestion.
– v6.40 – 06/12/16
+ Its been over 6 years in the making and probably the single most requested feature but now you can FINALLY set Source URL for a post.
+ Added another input to Format Post page to set the Source URL
+ Added another option to One-Click options to set the Source URL:
+ Fixed: No longer logs you out if loading fails, should reduce the number of people that are getting unexpectedly logged out
+ Fixed: Retries load attempt 3 times before failing
– v6.39 – 06/12/16
+ Fixed an issue where empty tag-sets would throw an error.
– v6.38 – 05/12/16
+ Added an option to disable logging, this may be useful for those people experiencing some logging based lag. Obviously this shouldnt be disabled for all users as it is useful for tracking down other issues.
– v6.37 – 05/12/16
+ Added file:// permissions to the manifest so that you can drag images into chrome and then post from them once again.
+ Fixed an issue that was causing some users to continually be logged out.
– v6.36 – 14/11/16
+ Apologies to some users for breaking their PTT yesterday. This should now be fixed.
– v6.35 – 13/11/16
+ Fixed a "bad-blog-name" issue, you may need to either change the target blog or reset your one-click menus to update the fix.
– v6.34 – 09/11/16
+ Improved the performance of the one-click menu options by removing some errors and logging.
– v6.33 – 07/11/16
+ Renamed accounts are handled better, you should now correctly be able to delete accounts that have been renamed. Hopefully this results in less account related errors.
– v6.32 – 05/11/16
+ The accounts page should now correctly show all accounts even if they are in error.
– v6.31 – 03/11/16
+ Minor update to try and catch the login error that is occuring to some people.
– v6.30 – 31/10/16
+ Accounts on the options > accounts screen should now be sorted alphabetically
+ When you remove an account the list should now correctly be refreshed
– v6.29 – 24/10/16
+ Added more logic to handle when Tumblr returns Auth Errors. This should now bubble up to the user in the form on an error which can be resolved by removing the Tumblr account and adding it again.
– v6.28 – 23/10/16
+ Added some better logic for handling initial load errors. You should now get an error message and it will log you out which often fixes the issue.
– v6.27 – 10/10/16
+ + Finally added the ability to drag images into chrome then post from them.
+ FINALLY fixed the "tumblr account not found" error!
+ Changed the location of the update images to use S3
– v6.26 – 23/09/16
+ Fixed my email bounce issue. I should now once again receive suggestions and error reports. If you send a suggestion or error report in the last 2 weeks theres a good change I wont have seen it so please send it again, sorry about that!
+ Changed donation payment system to entirely use Braintree which offers credit card AND Paypal options.
– v6.25 – 28/08/16
+ Once again lets you know when you reach your Queue limit (thanks joe)
– v6.24 – 23/08/16
+ Better error handling for post-limit-reached.
+ Made the Format Post page more obvious when there is no image selected.
– v6.23 – 13/08/16
+ Fixed adding a new Tumblr account to your PTT account, sorry about that and thanks to everyone that reported it!
+ Fixed an issue where you had to click the logout button twice
– v6.22 – 11/08/16
+ Removed some unneeded logging from the one-click caption area, hopefully will remove some crashes.
+ Fixed it so that failed uploads should now correctly proxy via my server.
– v6.21 – 10/08/16
+ Pictures should now correctly post from Instagram, Facebook, Flickr and other sources again.
– v6.20 – 09/08/16
+ Fixed "forgot password" feature.
– v6.19 – 09/08/16
+ A quick fix which forces logout of all accounts. Unfortunately is is necessary as the Parse server changed the security keys and session keys changed.
– v6.18 – 09/08/16
+ Due to Parse.com's shutdown I have moved everything over to my own servers. This has required a large number of changes on both the backend and frontend code. I have tested it as much as I can but there may be issues. Please do send and error report (from the general options tab) if you see anything not right.
– v6.17 – 18/06/16
+ Changed the manifest permissions so that "clipboardRead" is now optional. You can enable clipboard read by clicking the enable permission button in the oneclick options.
+ Improved the login / signup to enable pressing the "Enter" key to submit.
– v6.16 – 17/06/16
+ Added "Template Variables" to the one-click options.
– v6.15 – 26/05/16
+ Hopefully improved the performance of the format page by removing some logging
+ Added an option to clear out logs, hopefully this will help debug some issues for people
+ Fixed some more issues in the logging system
– v6.14 – 05/05/16
+ Fixed the auto-click-through links so that they once again work on the format post page
+ New and improved error reporting page
– v6.13 – 28/04/16
+ Improvements in performance of the Format Post page
+ Codebase improvements by splitting into sepparate packages
– v6.12 – 05/04/16
+ Improved logging for error reports
+ Format post window now respects selected blog name in one-click settings and NOT the last selected blog (thanks googlysmooth)
+ Added an option to disable the notification popups when posting (thanks anguyen0402)
+ Added more info to the one-click page to explicity show when settings are being saved (thanks brolspam)
– v6.11 – 08/03/2016
+ Fixed the login issue!
– v6.10 – 08/03/2016
+ Added better error messages for the forgot password section.
+ Changed email provider from Mandrill to SendGrid
– v6.9 – 15/02/2016
+ Updated tinymce library to better handle clicks and placeholder
+ New option to choose what happens if PTT is the last open tab (thanks Karl)
– v6.8 – 02/02/2016
+ Added new options to reload accounts in the options menu
+ Small changes to how error report logs are sent.
+ Made forgot password more obvious, added back button from forgot password
+ Better handling of deleting Tumblr accounts (finally)
+ Some minor graphical improvements.
– v6.7 – 25/01/2016
+ Added a new option to general that lets you set what state the format post window should be opened in:
+ Added a privacy policy to the account page
+ Require privacy policy to be accepted before signing up
+ Added a "clear formatting" button to the format page.
+ Users that aren't logged in must not provide an email when reporting an error
+ Fixed a spelling mistake (Thanks Tom)
+ Logs older than 2 days are now removed
– v6.6 – 19/01/2016
+ The "Remind Me in A Month" and Two Weeks are now working as expected, sorry about that!
+ One-click now also gets a reminder.
– v6.5 – 18/01/2016
+ The donate button now correctly links to the donation page.
+ Added another donation popup, only showing it every 6 months.
+ Removed some unnecessary logging to preserve privacy.
– v6.4 – 14/01/2016
+ Increased the size of the format post page a little, its 2016 after all 😉
+ HTML editing text areas are now resizeable.
+ Previous tag sets are now listed in reverse date order that they were used. It displays a maximum of 6 tags. If you have more tags sets you can optionally select to view them.
+ Fixed an issue with context menu items not refreshing after adding an account
– v6.3 – 14/01/2016
+ Post scheduling is back in addition to queuing. Queuing a post just adds it to the queue, scheduling lets you pick a specific date. (thanks joe, vitor, blinkingline, and others!)
+ Fixed an error in the oneclick options which was causing a few errors including not able to rearrange sibling menu items. (thanks adena)
+ Reduced the number of plugins TinyMCE is using in the format post window which I hope will increase performance of the text areas, let me know if you are still experiencing issues. (thanks shiinto)
– v6.2 – 12/01/2016
+ Added saved tags back to the format post page
– v6.1 – 12/01/2016
+ Added HTML editing back to the various text areas in the extension, sorry about that!
+ Currently you cannot click a text area in the format post window to have it auto-fill with a value, im working on it 🙂
– v6.0 – 11/01/2016
+ Huge new internal update, should make future changes much easier but may have caused a few bugs, please do report them if you see them!
Click here How to install Google Chrome extensions manually
You can download all premium theme and plugin Visit the website https://filetheme.com
If your need to make money from URL Shortener You Can Used https://u1l.co
| | |
| --- | --- |
| Package Name: | dbpicbbcpanckagpdjflgojlknomoiah |
| Version: | 6.67 |
| File size: | 7.88MiB |