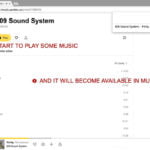 One Sound
By all bear
No Rating Available.
One Sound
One Sound Mode Free Download
One sound for all media content
Only one audio/video will be played at time, all another audio/video will be paused and a kind of queue will be created.
Problem:
You listen to music, someone send you a funny video on youtube and you open it.
Now you have playing at the same time your music and a funny video.
Solution:
– Return to the tab with your music, pause it
– Again go back to the youtube tab, rewind the video to the beginning
– When the video ends, you need open tab with your music and continue listening to it
Good solution:
Just install this extension and it will do everything for you. How it works:
– When any content (audio or video) start playing, the already playing audio/video will be paused
– When you stop the current audio/video previously paused content continuing to play
So, it means, that a queue of audio/video is formed. And only one content can be played in a one moment of time.
Currently, such providers are supported:
– Youtube
– VKontakte
– Yandex Music
– Sound Cloud
– HTML5 audio / video
– Google Music
PS: write in the comments which sites/providers of audio you would like to have added.
Also this is only alpha version so I will be really glad if you write about some bugs or features (that you want) 🙂
| | |
| --- | --- |
| Package Name: | dffcenhoengmpiolfggomohhfgnagnmk |
| Version: | 1.0.0 |
| File size: | 123KiB |