NETFLIX browse with IMDb rating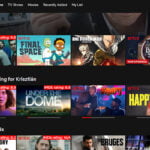 NETFLIX browse with IMDb rating
By ktothdev
No Rating Available.
NETFLIX browse with IMDb rating
NETFLIX browse with IMDb rating Mode Free Download
Browse NETFLIX with IMDb ratings shown on title cards
The extension displays IMDb rating of the mouse hovered movies on your Netflix Home/TV-shows/Movies.. page. After you hovered a movie title card with your cursor the rating will appear on the top right corner. Don't waste your time with looking after movie ratings on IMDb webpage any more.
How it works:
The extension fetch the movie details from the OMDb API by Brian Fritz(https://www.omdbapi.com/) and display the ratings.
How to use:
1. Click on the extension's icon in the Chrome menu
2. Get your !!free!! OMDb API key (https://www.omdbapi.com/apikey.aspx)
4. Paste the key you received in email into the input field on popup and DON'T FORGET TO !!CLICK SAVE!!
** Disclaimer ** Netflix and IMDb are registered trademarks, this extension is not affiliated with Netflix nor IMDb.
| | |
| --- | --- |
| Package Name: | bgioekpgighagonidghmhjlbphlpjioa |
| Version: | 0.0.1 |
| File size: | 16.79KiB |