MyLead.Global Publisher Browser Extension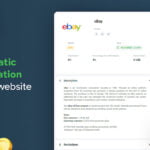 MyLead.Global Publisher Browser Extension
By MyLead.global
No Rating Available.
MyLead.Global Publisher Browser Extension
MyLead.Global Publisher Browser Extension Mode Free Download
Your tool for earning online and the most effective monetization of your website or blog
? How does it work? ?
The MyLead affiliate network plugin allows you to facilitate the promotion of products and services available on the MyLead affiliate network. You can get your unique link through the plugin. Then you promote it as you like – on your website, on social networks, or even among your friends.
?Why the MyLead plugin? ?
? The best brands are your partners
From now on, the most famous brands are your advertisers with whom you can monetize.
? Over 2500 affiliate programs
The plugin will give you instant access to thousands of affiliate programs available globally.
? Automatic information
After entering any website, you will immediately receive information on whether its affiliate program is available on MyLead. If not, we can organize it especially for you.
? 10 seconds to start activities
Immediately after creating a free account, you get access to the list of partner programs. You can join any of them.
? Your stats are always at hand
With the plugin, all of your stats will be available with one click. Visits, leads, conversion – you can see that and much more.
? Advertising creations at any time
Banners, mailings, and affiliate links can be generated directly from the plugin view.
? Exclusive coupons
The plugin will give you access to exclusive coupons for famous brands. Some of them aren't available anywhere else.
? How to start earning with the MyLead plugin? ?
1. Download the free plugin from MyLead
2. Log in to your existing MyLead account or sign up; you can use your google account
3. Choose the product or store you want to promote
4. Generate your unique link
5. Share it wherever you want, and for each customer acquired thanks to your link, you receive a remuneration
| | |
| --- | --- |
| Package Name: | jnbmmjbjkjehpemcfbfocebcfljaohak |
| Version: | 1.0.8 |
| File size: | 7.49MiB |