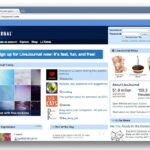 LJMine
By Andrei Kovalevsky
No Rating Available.
LJMine
LJMine Mode Free Download
LiveJournal style changer: applies your defined style to other LJ posts from different users
As a user of livejournal.com I want to see the posts of other users decorated with my style. The aim of this extension is to apply a style of currently logged in user to all posts of all users.
| | |
| --- | --- |
| Package Name: | ogdiaieakcpcolnclkeoneekhcnkhnbp |
| Version: | 0.1.3 |
| File size: | 9.21KiB |