INSSIST | Web Client for Instagram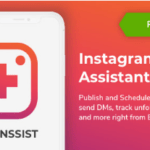 INSSIST | Web Client for Instagram
By inssist.com
No Rating Available.
INSSIST | Web Client for Instagram
INSSIST | Web Client for Instagram Mode Free Download
INSSIST | Web Client for Instagram
Post photos, videos, stories to Instagram from Web. Download posts and followers plus scheduling, insights and analytics IG tools.
Inssist (Instagram Assistant) brings crucial Instagram features to your Desktop:
* Post photos, videos and stories ? right from your desktop PC / Mac.
* Pre-plan posts in a grid. Schedule photos, videos and carousels ? to be posted automatically even if you are offline.
* Download videos, photos and stories from your Instagram feed in one click.
* Send Direct Messages (DMs) to any Instagram account even those you do not follow.
* Comment and like posts and monitor your Instagram account activity.
* Collect and export Insights on posts, hashtags and followers of any public account.
* Check any public account followers for percentage of spambots.
* Switch between an unlimited number of Instagram accounts in one click.
* See who unfollowed ? or followed you back recently.
WHY INSSIST
* Inssist is the only Chrome extension that supports Video uploads and is the only way to upload Videos from Desktop without sharing your Instagram password with a 3rd party app.
* Inssist ensures the Photos are published with the best resolution and quality possible. Portrait and landscape Photos uploaded with Inssist are not blurred by image compression comparing to other Chrome extensions or "user-agent switch" approach.
* Inssist allows scheduling Carousels without mobile app notifications.
DATA SECURITY
* Secure. You data does not leave your PC, we do not collect, store or sell it. Ever.
* Free, Ads-Free and Just Works. Because life is too short for bad software.
Disclaimer: Inssist does not belong or related to the official Instagram application / website in any ways. It is an unofficial app that is developed and maintained independently. Inssist (browser plugin) is a wrapper to the original Instagram web application and makes it more usable adding many improvements on top. This Chrome plugin is not endorsed or certified by any third party. All third party logos and trademarks displayed on this Chrome plugin are properties of the third parties. Inssist is distributed AS IS. For more info, privacy policy and terms of service, visit our web site: https://inssist.com/
————- RATE US ————-
If you like Inssist, tell your friends about it by sharing a link to inssist.com!
————- REACH US ————-
If you want to report a bug or have a feature request, please do not hesitate to reach us directly at inssist@slashed.io. You can find more info on the plugin usage and security under our FAQ page at https://inssist.com/faq
| | |
| --- | --- |
| Package Name: | bcocdbombenodlegijagbhdjbifpiijp |
| Version: | 14.0.6 |
| File size: | 827KiB |