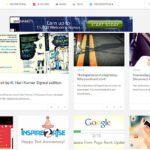 Inspire2rise for Chrome
By www.inspire2rise.com
No Rating Available.
Inspire2rise for Chrome
Inspire2rise for Chrome Mode Free Download
Inspire2rise.com is a multipurpose website that shares tech, trolls, quotes, DIYs & everything else.
Inspire2rise is a multi-niche website with content ranging from the mundane to the classic. All the content here are the sole views and property of the creators. Inspire2rise.com is your one stop for all of your reading needs, no matter how bizarre they maybe.
We cover tech, blogging tips, SEO, latest events, gadget reviews, Facebook covers, life hacks, motivational tips and almost everything under the sun.
Once you become a regular reader, there's no going back, because of the awesome streamlined reading experience, and the excellent plethora of content available to read and explore on Inspire2rise.
We are also available on i2r.in, our short url for easy bookmarking purposes.
Stay Inspired to Rise!
| | |
| --- | --- |
| Package Name: | ndkhmihfpfocibaoeejoljedjkghfcdg |
| Version: | 0.1 |
| File size: | 10.33KiB |