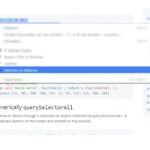 Highlight to Hilite.me
By terryseidler.com
No Rating Available.
Highlight to Hilite.me
Highlight to Hilite.me Mode Free Download
This extension allows the user to highlight code to send to hilite.me
Ever found some nice code you wanted to copy to a blog post? This extension lets you select that code, right click it and run it through the hilite.me API to generate proper code highlighted HTML.
The selected code will be copied to your clipboard, ready for use in one of your blog posts!
| | |
| --- | --- |
| Package Name: | iaenhklkflbfmpcafgalelagbdileikn |
| Version: | 0.1 |
| File size: | 15.82KiB |