Downloader for Instagram Extension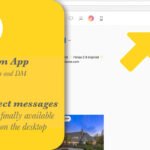 Downloader for Instagram Extension
By ig-downloader.net
No Rating Available.
Downloader for Instagram extension
Downloader for Instagram Extension Mode Free Download
Downloader for Instagram Extension
The app downloads Stories, Videos and Photos from Instagram website. Convenient mobile interface is available as an option
Here you can download photos, videos, stories and pictures from Instagram website.Mobile Interface is available as an option by clicking the button. It's fully free browser extension.It's an advanced Desktop app for Instagram with lots of useful features. We create a fully matched mobile version right in your browser. Watch news feed, receive and send direct messages, upload personal photo or video, review stories and all other you do in mobile version.
Useful features:
– Photo Downloader available on each site via context menu
– Easy access to Instagram website. Just click to extension button
– Receive and send Instagram direct messages from the browser
Download favourite funny photo and video from Instagram just in one click. Will it be one photo or video file or you want to download all photos and videos from the page, with our product you can do it with one click. We create an opportunity to download all video files and images from the page using a single button in top of the page. Save Instagram videos and photos and share it with your friends later.
Direct messages is finally available on the desktop. Communication became easier with Instagram direct in your browser.
Download any online video or image from your favourite website with Video Downloader for Instagram. Don't waste your time with online watching! Just click the button and download video to your PC.
We know how important to upload video or photo quickly and from any device to your Instagram profile. With Video Downloader for Instagram you can easily upload video file from your PC to Instagram. Stories in Instagram are also supported. Share the most significant moments with your friends.
Video Downloader for Instagram detect videos and photos on the web page and you can easily save them all by clicking one button. If you want to save just one video, simply click on the button at the corner of video file.
| | |
| --- | --- |
| Package Name: | pdhejmgmdnllbiioepjcclmjichnfdaf |
| Version: | 1.1 |
| File size: | 235KiB |