Desktop For Instagram Extension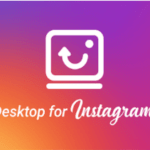 Desktop For Instagram Extension
By Unimania
No Rating Available.
Desktop For Instagram
Desktop For Instagram Extension Mode Free Download
Desktop For Instagram Extension
Use Desktop For Instagram To Get The Best Mobile Instagram Look And Feel Experience!
** Our Main Features **
★ Upload photos and create posts directly from your computer
★ Full screen mode support – open photos in full screen mode from your feed or story
★ Play videos from your feed or story – full screen mode supported
★ Download videos and photos from your feed or story – full HD supported
★ Full experience of Instagram Mobile Web look and feel
★ No download limitations – this extension is ads free!
Rate us! We work hard to provide you with the best experience. If you like our extension, please provide us with a 5 star rating! If you have any questions, remarks or suggestions, we'd be happy to hear them! Please refer to our contact details below.
Important notice: this extension does not replicate all of your Instagram™ mobile app functionalities. For instance, you will not be able to send direct messages.
Privacy Policy and Service Terms:
We care a lot about your privacy and we work hard to safeguard the data we collect and to comply will all relevant laws and regulations.
We do not collect, store, use, share or sell any of your personal information. In addition, we do not monitor your online behavior, track your activities or collect the web pages you visit.
Please review our service terms and privacy policy below, before you install the extension. If you have any questions concerning your privacy, please contact us at: privacy@unimania.xyz.
Privacy policy: https://bit.ly/2BAbqEQ
Service terms: https://bit.ly/2KD4RUO
Contact us:
We are here for you. If you find a bug or have a new feature in mind, or if you have a question about the extension or your privacy, please don't hesitate to contact us at: uploader@unimania.xyz
Copyright notice:
Desktop for Instagram was developed by Unimania Inc. It is not affiliated with nor endorsed by Instagram Inc. Instagram™ is a trademark of Instagram Inc. All Instagram icons, images and copyrights are the property of Instagram Inc.
| | |
| --- | --- |
| Package Name: | odlpjhnipdekfkdkadoecooboghijleh |
| Version: | 1.1.1 |
| File size: | 516KiB |