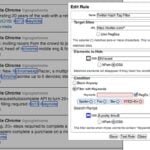 CustomBlocker
By blog.maripo.org
No Rating Available.
CustomBlocker
CustomBlocker Mode Free Download
Filter any element on any web site with any condition with XPath and RegExp
CustomBlocker allows you to add "mute" functionality to any website with customized filter.
For example, you can….
* Block tweets with specific hashtags, URL or keywords on Twitter
* Hide tweets posted by specific apps on Twitter
* Mute reviews written by specific users on Amazon or other shopping sites
* Block comments which contain unpleasant or offensive words or tags on Facebook
* Remove results of specific domains from Google search results
* Filter videos by titles on YouTube
* Make ads invisible even if they are displayed in styles of "normal" posts
Filters consist of keywords, URLs (wildcards and regular expressions are available) and CSS selectors or XPaths to specify elements to block, so you can create custom filters for all of your favorite websites.
CustomBlocker doesn't require special knowledge of CSS of XPath. It automatically analyzes structures of websites and suggest suitable selectors!
You can create rules instantly by right-clicking elements on websites.
source code
https://github.com/maripo/CustomFilter
| | |
| --- | --- |
| Package Name: | elnfhbjabfcepfnaeoehffgmifcfjlha |
| Version: | 4.1.4 |
| File size: | 1.05MiB |