Color Changer For Webpage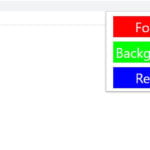 Color Changer For Webpage
By matiullahjd4041
No Rating Available.
Color Changer For Webpage
Color Changer For Webpage Mode Free Download
Change the color of the fonts and background of a webpage.
Allows users to apply any color to the font and background of any webpage (after the extension is installed, the webpage needs to be refreshed to take effect). To use the extension, first click on the extension icon and you will see a drop-down menu with three options-font, background and reset.
| | |
| --- | --- |
| Package Name: | ebbijgoennffobmnjooegdmcfjjjbalg |
| Version: | 0.0.1 |
| File size: | 88.58KiB |