Code Central by NS Learn to Make Money Online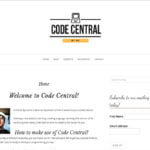 Code Central by NS Learn to Make Money Online
By codecentralbyns.com
No Rating Available.
Code Central by NS Learn to Make Money Online
Code Central by NS Learn to Make Money Online Mode Free Download
Code Central by NS is a blogging website covering everything related to Web Development and Internet Marketing
Hi there! My name is Nauman Sajid and I'd like to welcome you to Code Central by NS.
Code Central by NS is a learning/blogging platform designed to help users – new and experienced – gain coding, web developing and online marketing skills. I want to help you to start earning online and eventually have it become your primary source of income!
Starting a new website, learning a coding language, learning SEO etc. can all be confusing and messy. Code Central aims to simplify the hassle for you.
There are a variety of different resources you can make use of – free and paid! We've got you covered. You can view all the Video Courses by clicking on the Courses Tab.
You can head over to the Blog section to read our huge array of articles on everything from Coding, SEO, Social Media Marketing, Internet Marketing and lots more! There are step by step guides available for you if you're a complete beginner as well as advanced level knowledge.
If you're looking to download software and other resources, click on the Resource tab. You'll find links to everything I use and/or recommend for those looking to start a website, launch a course or even taking their business online.
Feel free to browse the website and read/sign up to any course you're interested in. Click on the articles in the sidebar to start learning today!
Please do Subscribe to our mailing list (you can find the subscription form in the sidebar). I will be sending out emails with freebies and all the latest information about new courses or any new articles that are being posted.
Similarly, do follow us on Facebook, Twitter and Youtube! (links below) to join the community and share + benefit.
Thanks,
Nauman Sajid
| | |
| --- | --- |
| Package Name: | amhoppdjnogmpdiibehgmeakiefakdmo |
| Version: | 1.0 |
| File size: | 15.79KiB |