Change Tumblr Font to Literally Anything Else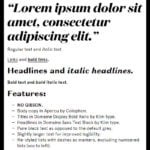 Change Tumblr Font to Literally Anything Else
By becca.ooo
No Rating Available.
Change Tumblr Font to Literally Anything Else
Change Tumblr Font to Literally Anything Else Mode Free Download
Removes every trace of Gibson from Tumblr.
Update (6/11/2015): This extension has been simply to hard to maintain/integrate with tumblr's constant code-changes. It was never perfect and would be quite strenuous to code well. A tumblr update broke most of its features completely today, and as such, it is discontinued. Today I am shipping a version that does absolutely nothing. You can disable it or leave it dormant. If, one day, I decide to rework and recode this extension, it may become active again. It's been fun, but consider this my surrender. You win, Gibson. You win.
— NO GIBSON.
— Body copy in Apercu by Colophon
— Titles in Domaine Display Bold Italic by Klim type
— Headlines in Domaine Sans Text Black
— Pure black text as opposed to the default grey
— Slightly larger text for improved legibility
— Re-styled lists with dashes as markers, excluding numbered lists
It's only 500kb (about the quarter of the size of a dashboard gif), and pure css—meaning it's very fast and doesn't lag like certain other tumblr extensions.
| | |
| --- | --- |
| Package Name: | komgahngfkdidneejognmgookmbjamao |
| Version: | 1.4.6 |
| File size: | 513KiB |