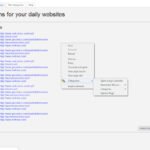 Categorizer
By Zycian
No Rating Available.
Categorizer
Categorizer Mode Free Download
Categorizer lets you manage and categorize the websites you visit regularly and the ones you only visit on certain days of the week!
Categorizer is here to help you with never falling behind by forgetting to visit certain websites in general and on certain days of the week.
For a short guide of how to access the options page, scroll down to the bottom of this page.
The features of Categorizer are as follows:
✔ You can save websites to certain days of the week and with a click on the mouse open the websites associated with the current day (in their own tabs). This is useful for websites with specific update schedules, like: online comics, movie sites and other areas as well.
✔ Create and manage self-made categories. With this you can create categories and add websites to them. These can be opened in just a click as well.
✔ Most of the functionality is available to you just by right-clicking the mouse and choosing the extension's menu-item "Categorizer".
✔ Easy import and export features for syncing with your other computers – or share your categories or your daily website schedule with your friends and family.
✔ [your idea!] If you got an idea for changes or extra functionality – please let me know!
##############################################################
How do I use this?
– Right click the mouse on something that's not an image, canvas or the like. Then choose the "Categorizer" menu and the options are right there.
Another option is to go to your extension managing page, then find the Categorizer extension and click on the "Options" link.
| | |
| --- | --- |
| Package Name: | jmgbopnlaiiikeondaigfaiaadmjeeid |
| Version: | 1.1.8 |
| File size: | 56.11KiB |