Caps Alert! for google chrome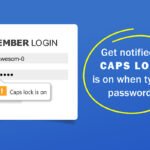 Caps Alert! for google chrome
By neea.dev
No Rating Available.
Caps Alert!
Caps Alert! for google chrome Mode Free Download
This extension alerts you if caps lock is on while typing in password fields.
Failure to detect caps lock is a problem if you repeatedly type in the wrong password and have to go through password reset – or worse – you get locked out of your account and have to jump through hoops to recover access. Rather that dealing with that headache, this extension will notify you as you type that caps lock is on.
NOTICE! since transparency is very important here, please feel free to review the extension source code and ensure it works as described.
| | |
| --- | --- |
| Package Name: | pbmpbehpjldnlahaommhknfibidfofnf |
| Version: | 0.1.6 |
| File size: | 14.0KiB |