blinkyDings Genesys Cloud Connector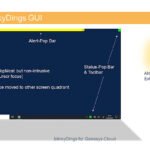 blinkyDings Genesys Cloud Connector
By Deliberate GmbH
No Rating Available.
blinkyDings Genesys Cloud Connector
blinkyDings Genesys Cloud Connector Mode Free Download
Native Messaging API Host for blinkyDings by Deliberate GmbH (https://deliberate.de/en/blinkydings)
This Chrome-Extension allows our desktop application "blinkyDings" to connect with the "Genesys Cloud" web application.
blinkyDings is a special add-on for your Genesys Cloud application. It signals the current Genesys Cloud status of the agent and informs about incoming interactions easily visible for the whole customer service team and of course the agent himself.
WHY BLINKYDINGS?
– The Genesys Cloud web application is sandboxed and confined to reside inside a browser
– Web applications only have limited ability to interact with their client host OS
– Browser window cannot be brought forward by contained web application
– Windows Toast-Notifications are not intrusive enough
– Audio notifications are mostly undesired
– Team leaders would like to have a live activity and performance overview
WHAT'S BLINKYDINGS?
– blinkyDings is a client application that extends the notification capabilities of Genesys Cloud
– Offers signaling for any AgentPresence-State, CallConversation-State and Routing-Status
– Offers Visual On-Screen non-intrusive Popup above all windows
– Use of external USB Color LED light (Kuando busylight)
– Signaling style for each state can be configured to have individual color and blink behavior
– All blinkyDings clients are provisioned by central cloud configuration backend
– Simple registration and configuration via QR-Code from mobile device camera
– Configuration groups for uniform blink style and behavior
Please contact us for more information…
blinkyDings is a product by deliberate-gmbh.de
Copyright © 2020 Deliberate GmbH
| | |
| --- | --- |
| Package Name: | pbndobajlinmijhamalkjlmpjddogbhf |
| Version: | 1.0.7 |
| File size: | 7.7KiB |