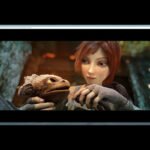 Black Bars Begone
By paullehenaff2
No Rating Available.
Black Bars Begone
Black Bars Begone Mode Free Download
This extension allows you to make the most of your 21:9 monitor and Netflix by extending the source material to fill the screen.
Please note this extension only works for Netflix! It will NOT work for Youtube or any other site
So you bought a nice new 21:9 monitor and want to watch some Netflix?
Unfortunately you will soon realise that the lovely new surface area you bought specifically for watching movies in their true aspect ratio is completely ruined by black bars and black walls (black space on either side)!
This is because the black bars are part of the stream. When you watch something in full screen those bars are there and since the screen is so wide, you end up with black space on either side.
Never fear! Black Bars Begone was made to solve this specific issue!
Click the button and watch as those black bars disappear, unleashing the full potential of your true cinema display.
Note: This is specifically designed for monitors with a 21:9 aspect ratio with source material of that aspect ratio. Other aspect ratios (which don't really have this issue anyway) won't work as intended.
| | |
| --- | --- |
| Package Name: | mgmcokpgponhgkbnhfbdiddookjadenf |
| Version: | 0.1 |
| File size: | 41.53KiB |