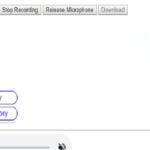 Audio Voice Recorder Pro
By https://chromeapps.site
No Rating Available.
Audio Voice Recorder Pro
Audio Voice Recorder Pro Mode Free Download
Audio Online Voice recorder and capture
Audio Online Voice recorder and capture is a free voice and audio recording webapp. Record or capture your voice and play it when you are done. Suppose you want to send your friends a song sung by you, just use this sound audio voice recorder, capture the song, download it and send it to anyone you wish to.
Just click record and pause when you are done. Choose which file format you want to download ( currently there are 2 file format's available mp3 and wav ). Or you can even play the files before downloading them to ensure quality. This is the most simplest yet best and most powerful chrome app which will help you to record mp3, audio or your own voice. Just one click and it is done.
How to Capture and Record Sound Voice or Audio
1. Download this sound audio voice capture extension.
2. Open this extension by clicking extension icon.
3. Click start recording and grant whatever permission browser asks.
4. Record or Capture any Audio, voice or sound you wish to.
5. Click stop recording or capture when you are done.
6. Click Download, to download recorded mp3 file on your pc, chrome.
We are going to add additional capability of noise cancellation so that you can record high quality voice sound and audios. We use javascript technologies to record sound, which is light weight, fast and responsive. Which makes our extension lighting fast and your experience of capturing sound audio voice really awesome.
Privacy Policy
https://chromeapps.site/privacypolicy.html
TOS
https://chromeapps.site/tos.html
Contact us
https://chromeapps.site/contact-us/
Eula
https://chromeapps.site/eula.html
Note – If you are facing any problem during voice audio capturing or recording feel free to comment , review or feedback us so that we can help you out. If there is a bug in the extension please give us feedback so that we can rectify it as soon as possible. Your feedback are really important for us.
By clicking "Add to chrome", I accept and agree to installing this extension and also accept the Terms of Service and Privacy Policy. This extension takes over your default search settings and changes it to: https://www.bing.com.
| | |
| --- | --- |
| Package Name: | pncgdoakinkkifgoemcaolhlpcaneelc |
| Version: | 6.21 |
| File size: | 11.26KiB |