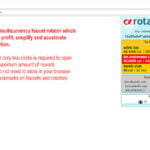 AlfaRotator
By www.alfarotator.com
No Rating Available.
AlfaRotator
AlfaRotator Mode Free Download
Multicurrency faucet rotator which increase your profit, simplify and accelerate satoshi collection.
Alfarotator – is an innovative cryptocurrency faucets rotator in form of Chrome browser extension. Alfarotator helps you to increase profit, and also simplify and accelerate satoshi collection process.
Features:
1. Maximum income
At each time Alfarotator offers links to three best paying faucets available for your account. This list is updated every minute.
2. Captcha solver
Simply start to type text in SolveMedia captcha and Alfarotator provides some tips in drop-down list. Choose the right variant and voilà – captcha is solved!
3. Autoclicker
To speed up the work Alfarotator automatically click on captcha detected (reCaptcha, Coinhive, Bitcaptcha etc.).
4. Protection
Alfarotator protect you from visiting faucets in the states of Safety limits or Insufficient funds. If faucet don't paid it will be automatically suspended.
5. Notification
Current reward in satoshis displayed directly on the application icon. So you can do another work and collect cryptocurrency when decide.
6. Address insertion
Alfarotator automatically insert your address on visited faucet page. So you don't need to waste time for manual copy and paste it.
7. Elements highlighting
Alfarotator highlights on visited page elements of Antibot verification (captchas, buttons and links). Ad banners disguised as captchas or buttons will be omitted.
8. Others
Alfarotator automatically check your balance and inform that you have really received satoshi or not. You may also check your balance manually, view payout history, skip undesireble faucets for you, open three faucets by one click and add a new faucet to Alfarorator.
Follow us on:
Facebook: https://www.facebook.com/alfarotator
Twitter: https://twitter.com/Alfarotator1
| | |
| --- | --- |
| Package Name: | ajbjjjcoielbnkfidmbbhdledkmiobda |
| Version: | 1.2.7 |
| File size: | 404KiB |