Ads Killer Adblocker Plus, ADS KILLER PLUS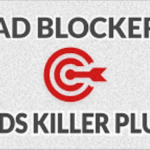 Ads Killer Adblocker Plus, ADS KILLER PLUS
No Rating Available.
Ads Killer Adblocker Plus, ADS KILLER PLUS Mode Free Download
Ads Killer Adblocker Plus
Effectively removes all advertising on all web pages! ADS KILLER PLUS effectively removes all types of advertising and pop-ups on all web pages! This new generation ad remover lets you to surf the web without intrusive ads and reduces tracking.
What ADS KILLER PLUS for Google Chrome™ does:
1. Blocks all ads including:
– Video ads
– Rich media advertising, interstitial ads and floating ads
– Unwanted pop-ups and pop-unders
– Banners and text ads
2. Speeds up webpage loading and saves bandwidth, due to the removed ads and pop-ups.
3. Helps to block spyware, adware and malware, by not loading the infected domains.
4. Helps to protect your privacy by blocking third-party tracking systems.
5. Helps to protect you from malware and phishing.
How good is ADS KILLER PLUS?
ADS KILLER PLUS is fast and lightweight. It uses much less RAM than other solutions. By blocking domains known to spread malware, protecting your computer against viruses, Trojan horses, worms, spyware and adware. ADS KILLER PLUS lowers risk of infections and prohibits access to harmful websites.
Tested and compatible with many other extensions.
© COPYRIGHT
Youtube™ and Google Chrome™ are trademarks of Google Inc. Use of these trademarks is subject to Google Permissions. Facebook™ is a trademark of Facebook, inc.
Some Review of the Extension
Shashank Dhondiyal –
Modified May 27, 2018
| | |
| --- | --- |
| Package Name: | maekfnoeejhpjfkfmdlckioggdcdofpg |
| Version: | |
| File size: | |