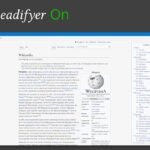 Wiki Readifyer
By David Maier
No Rating Available.
Wiki Readifyer
Wiki Readifyer Mode Free Download
Makes Wikipedia articles pleasantly readable. Nothing more. Nothing less.
Have you ever tried to read an Wikipedia article, trying to gain knowledge but the page's design just hindered your eyes from locating the words that held the desired wisdom?
Well, worry no more! Wiki Readifyer makes the knowledge you are searching for pleasantly readable. The wisdom you desire to read is just one installation away!
And the best thing: It doesn't remove anything from the page it only changes the layout while staying 100% faithful* to the original contents.
The following changes are applied to guarantee the best possible experience:
• responsive layout: articles are pleasantly readable at any window size
• slight reduction of text-background-contrast
• reduction of article width
• moving the table of contents to the right where it stays even when scrolling
• the title also stays visible when scrolling down
• some other little adjustments
*However, if the window width is too small the extension will hide the left sidebar, only to guarantee the best use of your precious screen space. To make it visible again, just make the window wider.
| | |
| --- | --- |
| Package Name: | kinhfkialnlpoomgdpolokhholkofeke |
| Version: | 1.3.3 |
| File size: | 202KiB |