WebHelp for google chrome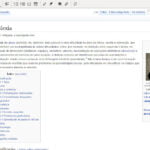 WebHelp for google chrome
By WebHelp
No Rating Available.
WebHelp
WebHelp for google chrome Mode Free Download
Extension to support reading and web browsing.
Essa é a versão Beta da extensão WebHelpDyslexia, desenvolvida para auxiliar pessoas com dislexia durante a leitura e navegação na Web. A extensão permite a personalização da página de acordo com as necessidades do usuário, como combinação de cores, espaçamentos, tipo e tamanho da fonte. A extensão também oferece uma "régua de leitura" que permite realçar o texto que o usuário está lendo evitando distração, além de um marcador de texto e um dicionário de sinônimos de palavras difíceis.
| | |
| --- | --- |
| Package Name: | pjnhjelpkdoihfjeeemmahpdbmgliboo |
| Version: | 1.0.0 |
| File size: | 257KiB |