Ubersuggest – SEO and Keyword Discovery extension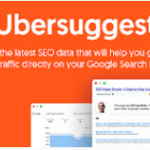 Ubersuggest – SEO and Keyword Discovery extension
By Ubersuggest
No Rating Available.
Ubersuggest - SEO and Keyword Discovery extension
Ubersuggest – SEO and Keyword Discovery extension Mode Free Download
Ubersuggest – SEO and Keyword Discovery extension
Keyword search volume, CPC and insights for all keywords you search. Works with Google, YouTube and Amazon. SEO tool by Neil Patel.
Ubersuggest is a free Chrome extension that shows you the most actionable SEO metrics directly in Google search results, YouTube search results, and in your Amazon search suggested terms.
Install the Ubersuggest Chrome extension by following the steps below:
1) Click the "Add to Chrome" button
2) On the next screen, click the "Add Extension" button
3) A message will then be displayed saying "Ubersuggest has been added to Chrome"
4) That's it, you're now ready to use the Ubersuggest Chrome extension!
For every new search performed in Google, you'll gain access to key SEO metrics related to your search phrase.
With Ubersuggest, you can get strategic competitive insight on the top 10 results, followed by a list of closely related keyword suggestions based on your search term.
Here are some of the metrics and insights you'll gain access to:
★ Search volume and CPC data for your search term right at the Google's search bar – on Google, YouTube and Amazon
★ A list of highly-targeted keyword suggestions in the right-hand sidebar, according to your country preferences, both on Google and YouTube
★ The average number of backlinks and domain score that the top 10 Google search results have
★ Metrics about each of the first 10 Google search results, such as
★ Domain Score
★ Pinterest and Facebook shares
★ Backlinks
★ A chart showing you a correlation between backlinks and the top 10 Google search results
★ A comprehensive chart that breaks down, on the search results page of Google AND YouTube
★ How many times your search term has been searched in the last 12 months
★ What's the percentage of SEO clicks your search term gets on Google
★ What are the different age groups that search for your term
The data that the Ubersuggest Chrome extension provides is perfect for:
– Competitive research
– Website owners who want to improve their SEO and get more organic traffic
– Sales professionals gaining more intelligence about a prospective client's website and preparing for a pitch
– Freelancers, agencies and marketers working with clients optimizing their websites
The Ubersuggest Chrome extension is available for free. You don't need to create an account, you don't need an API key, and you don't need to sign in.
We take your privacy very seriously. The only data our Chrome extension gets is the URL of the website you're browsing and other elements of that particular page. The Ubersuggest Chrome extension doesn't spy on users to collect any usage data, browser history, or track any of their activity on the web.
———————————————
Ubersuggest data available for: United States, India, Brazil, United Kingdom, Japan, France, Germany, Indonesia, Algeria, Argentina, Australia, Austria, Belgium, Bolivia, Bulgaria, Canada, Canada, Chile, Colombia, Costa Rica, Croatia, Czech, Denmark, Dominican Republic, Ecuador, Egypt, El Salvador, Estonia, Finland, Greece, Guatemala, Hungary, Iceland, Ireland, Israel, Israel, Italy, Korea, Lybia, Malaysia, Malaysia, Malta, Mexico, Morocco, Netherlands, New Zealand, Nicaragua, Norway, Palestinian Territory, Paraguay, Peru, Philippines, Poland, Portugal, Puerto Rico, Qatar, Romania, Russia, Saudi Arabia, Serbia, Singapore, Slovakian, Slovenia, South Africa, Spain, pain, Sri Lanka, Sweden, Switzerland, Thailand, Tunisia, Turkey, UAE, Ukraine, Uruguay, Valencian Andorra, Pakistan, Hong Kong, Nigeria, Bahrain, Jordan, Latvia, Lithuania, Cyprus, Armenia, Vietnam, Bangladesh, United Arab Emirates and Venezuela
———————————————
Data for the extension provided by Ubersuggest: https://neilpatel.com/ubersuggest/
If you have any questions, comments or suggestions, contact us at [email protected]
Frequently asked questions:
★ Do you ever upgrade/modify the extension?
Yes, we do! In fact, at this very moment, we're working on features that are probably going to be added in 10 months from now. We have a goal of making Ubersuggest the best SEO and Marketing extension out there, and we take this mission very seriously.
★ Can I suggest additional features to be added to the extension?
We'd love that! Please feel free to reach out to [email protected] with the subject line "Chrome extension". We listen to our users attentively to make sure we're adding features that will truly impact your workflow by saving you hours of work and giving you the data you need.
★ What browsers is the extension available on?
At the moment, our extension is only available for Google Chrome. But we do have plans to incorporate other browsers too.
★ Are all of the features totally free to use?
In our Chrome extension, you won't be prompted to upgrade to a paid plan or anything like that. All the data is available free of charge.
| | |
| --- | --- |
| Package Name: | nmpgaoofmjlimabncmnmnopjabbflegf?hl=en-US |
| Version: | 2.9.3 |
| File size: | 1.49MiB |