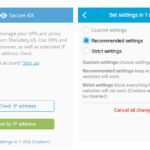 Secure Kit
By TheSafety
No Rating Available.
Secure Kit
Secure Kit Mode Free Download
Make your browser anonymous on the web in 1 click
Secure Kit helps make your browser anonymous in 1 click.
Select Recommended or Strict Settings.
Advanced users can select the necessary settings manually.
The extension controls the following settings:
– Disable WebRTC, Flash, Java, Cookies, Javascript
– Disable unique Browser Imprints (no one will be able to monitor your browser)
– Enable HTTPS Everywhere and Do not track feature
– Change browser user agent
– Disable or change Geo Location
– Set by IP address manually or by timer: time zone, browser language and Geo Location
Manage your TheSafety.US account:
– Receive VPN and proxy subscription renewal notifications
– Connect to your browser subscriptions
Privacy policy:
We do not collect any information on the operation of the extension, visited sites, IP addresses, DNS queries, Cookies, etc.
We do not control your connections and do not maintain any logs.
For authorization, the program uses Email and the password from TheSafety.US
The extension does not require registration or authorization.
| | |
| --- | --- |
| Package Name: | jhhafkobmfjlcfppjenldjalejnfhcfk |
| Version: | 1.1.6 |
| File size: | 591KiB |