Ground News – Bias Checker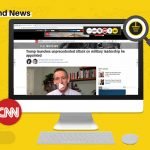 Ground News – Bias Checker
By Ground News
No Rating Available.
Ground News - Bias Checker
Ground News – Bias Checker Mode Free Download
Ground News – Bias Checker
Explore the web and lookup articles you find on Ground News
Want a second opinion on the news that you're reading? Try out the Ground News Bias Checker – a chrome extension bringing the power of the world's first news source comparison platform to your desktop.
Whenever you read a news article, The tool enables you to objectively see the political coverage bias of any story on the internet, and easily access a myriad of different perspectives on that very same story. You can see if the story is receiving balanced coverage, or is only being reported by news sources on the left and right. As seen below:
We used advisory from journalists to inform the design and functionality of the extension but made it user friendly enough that the average newsreader can use it. Whether your routine is to check in on Twitter, Facebook, or Reddit, Ground News can uncover the hidden bias in your news feed.
The browser extension can:
1.Instantly tell you the media bias distribution of any story (% of coverage from sources on the left, right and center). The bias data is overlaid on your social media feed so you never have to disrupt your news browsing to see the underlying bias.
2. Give you easy access to media bias data and other perspectives when you read an article on over 50,000+ news sites.
3. With only one click, the extension enables you to access an aggregation of how other sources are reporting on the story. From here, you can easily compare how headlines and coverage differ among sources from across the political spectrum.
Ground News is an entirely new way to read daily breaking news stories. Now, you can get it anywhere you are online. On your phone, tablet and desktop.
Developed by a former NASA engineer, Ground News has helped over 100,000 users fight biased news and adopt a more balanced news diet.
We can't eliminate bias in the news – but we can help you clearly see it. Ground News gives you the power to see multiple perspectives and judge the truth for yourself.
For support or general inquiries, please contact [email protected]
| | |
| --- | --- |
| Package Name: | agleiimpggapjekcdhdjbmegjbbkleie?hl=en-US |
| Version: | 2.9 |
| File size: | https://lh3.googleusercontent.com/O3lkibHf4kiH7xgZYrHdhjKNTJXRiIwDwFF-_aDcxvII-cJG2UGbJzxsYxGC8gmdaSfbwg7fX9bkqs4Et7ApsxyZKg=w640-h400-e365-rj-sc0x00ffffff |