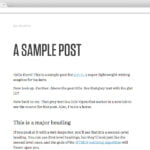 gist.io
By gist.io
No Rating Available.
gist.io
gist.io Mode Free Download
Toggle between github.com and gist.io when viewing gists
Write a GitHub gist, present it with style. Publish a quick, anonymous note or a long essay—your content stays on GitHub, and gist.io makes it a pleasure to read.
This extension adds an icon in the omnibox on github gists and gist.io pages. Clicking the icon when viewing a github gist will take you to the corresponding gist.io page, and vice-versa.
| | |
| --- | --- |
| Package Name: | dbhgbgenagpfgjjhjenodmgadclfpcae |
| Version: | 0.0.1 |
| File size: | 13.68KiB |