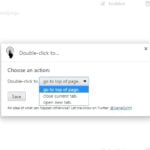 Double-click to…
By daniel.schmitz-huebsch.net
No Rating Available.
Double-click to...
Double-click to… Mode Free Download
Set different actions for a double-click on a webpage.
Invented because a simple mouse click already existed, you can now use the double-click in the browser.
Use the double-click to:
– move to the top of the page.
– close the current tab.
– open a new tab.
Do you have an idea of what can happen when you double-click? Contact me via the support form.
Additional Information
Report abuse
Version
0.7
Updated
October 13, 2015
Size
12.29KiB
Languages
See all 2
| | |
| --- | --- |
| Package Name: | dnlbjgbbmhedhlijenejbbcnhndkhdnn |
| Version: | 0.7 |
| File size: | 12.29KiB |