Audi Wallpapers | Theme for New Tab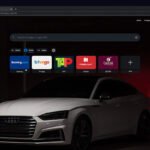 Audi Wallpapers | Theme for New Tab
By Garry P.
No Rating Available.
Audi Wallpapers | Theme for New Tab
Audi Wallpapers | Theme for New Tab Mode Free Download
Audi theme perfectly combines stunning Audi wallpapers with cutting-edge productivity features
Hey, love fast and luxury cars like Audi? Then it's time to call Xzibit and pimp your new tab!
Check out how our extension can tune Chrome new tab & feel the difference:
Was > zero backgrounds
Now > 25+ HD Audi wallpapers plus the ability to set your own images
Was > plain search bar
Now > advanced search area with regular engines or any other websites of your choice like YouTube or Netflix
Was > inflexible interface with lack of freedom
Now > easily customizable new tab interface to your preferences
And plenty of other features under the hood that you are welcome to try upon installing Audi theme for Chrome.
| | |
| --- | --- |
| Package Name: | obfeapenodnppjenncglfmdlfgadmceg |
| Version: | 5.0.8 |
| File size: | 914KiB |