Ads Blocker for google chrome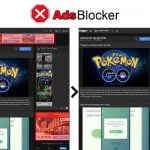 Ads Blocker for google chrome
By adsblocker.ru
No Rating Available.
Downlaod Ads Blocker for google chrome
Ads Blocker for google chrome Mode Free Download
Ads Blocker – blocks all annoying ads, malware and tracking.
Ads Blocker effectively blocks all types of advertising on all web pages!
— Blocks all ads including video ads, interstitial ads and floating ads, unwanted pop-ups, banners and context ads.
— Blocks spyware and adware.
– Blocks miners.
— Protects your privacy by blocking common third-party tracking systems.
— Ads Blocker is really fast and lightweight.
— 24/7 support on Facebook.
If you install the extension, you accept the Licensing agreement https://mediasave.ru/info/license/
Click here How to install Google Chrome extensions manually
You can download all premium theme and plugin Visit the website https://filetheme.com
If your need to find a Job for government or privet. You can visit https://kormokhali.com
| | |
| --- | --- |
| Package Name: | ngahaphlngmdfhbhkplbglnfhehnpgdb |
| Version: | 6.0.3 |
| File size: | 138KiB |